Course details
Weekday limited! Girls' Association ♪ Boasting meat dishes & healthy vegetables for women ♪ 2 hour drink all you can ◆ Color course ◆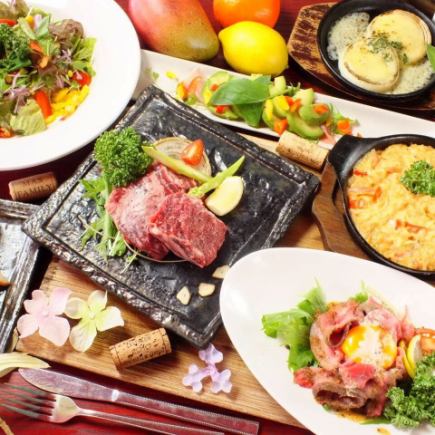 By using a coupon2980 yen
(tax included)
All-you-can-drink available

All-you-can-drink all-you-can-eat ★ All you can drink beer, cocktail, highball, fruit wine, sangria etc. All time is 2 hours and the last order of drink is 1.5 hours.
Reservation deadline

Coming to the store until the desired date of the day 22
Available days for reservation

Monday - Thurs, Sundays, Holidays
Please be sure to read notes.2 hours with all you can drink! Sunday · public holiday · if you are having a drink on weekdays you can drink as much as you can! The woman is 2980 yen! ※ The male is 3480 yen.An answer to the needs of women, use good meat & vegetables! Healthy creative cuisine is plentiful ♪ It is a healthy and satisfying inevitable course content that is perfect for girls' association, mommy-kai, gokoku!
Course menu
All 7 dishes
Carpaccio with raw ham and avocado tailored
◆ Aya seafood carpaccio salad with seven kinds of fresh vegetables and fresh fish
◆ Wasso popular number one! Homemade roast beef
◆ Steak with onions from Awaji Island steamed cheese
◆ Today's Recommendation "Meat" Cooking
◆ Iron plate risotto of rich cream sauce
◆ Daily dessert cake ♪
All-you-can-drink menu
·beer
· Beer (medium pitcher), all-free
·Cocktail
· Moscommeureur, cassis soda, cassis orange, cassis grape, cassis oolong, fuzzy group, candy gum, red eye, gin tonic, jin lime, gin beam
·Whisky
· Jinbeam, horn, beam high ball, beam cider, beam cola, beam ginger, horn high ball, horn cider high ball, angular cork high ball, angular ginger high ball
·wine
· Red, White, Kitty, Cardini, Carimocho, Operator
- Rice wine
· Seoul Makgeolli, Giant Peak Makgeolli, Lemon Makgeolli, Lime Makgeolli, Tomato Makgeolli
·sour
· Lemon, grapefruit, lime, peach, gigantic, green apple, calpis
·plum wine
· Plum wine, wine wine, Miryuki acerola, Mizuki Yuzu, Miramori lychee
Shochu
- Wheat, potato
·Sake
· Fascinating heat and cold sake
·Soft drink
· Oolong, green tea, cider, cola, ginger, calpisoda, orange, grapefruit, apple, tomato juice, calpis
Coupons that can be used with this course
2018/10/02 update