Course details
All-you-can-drink for 2 hours! Roast beef, spare ribs! Enjoy the meat dish you can taste only at our shop ◆ Meat Balcose ◆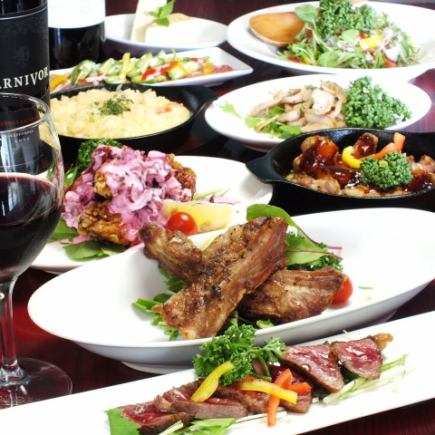 By using a coupon4500 yen
(tax included)
All-you-can-drink available

All-you-can-drink all-you-can-eat ★ All you can drink beer, cocktail, sour, high ball etc. All time is 2 hours and the last order of drink is 1.5 hours.
Available days for reservation

Monday - Sunday - Public holidays - Holidays
Course dishes where you can enjoy your dishes at our dishes!The main dish is "sparerib 's oven - grilled" umami meat pickled in garlic salt all day! Alcohol goes well well ♪ Please enjoy really good meat!
Course menu
[9 items in total]
◇ Chef's whimsical appetizer
◇ Salad with raw ham and lettuce
◇ Popular! Homemade roast beef
◇ Juicy too !! Spare rib oven grill
◇ chicken thigh meat BBQ cheese
◇ Oven-baked Calbee with bone
◇ Young bird's Kyoto wind cherry-blossoms
◇ Concentrated cream sauce rice plate
◇ Today's daily dessert
All-you-can-drink menu
·beer
· Beer (medium pitcher), all-free
·Cocktail
· Moscommeureur, cassis soda, cassis orange, cassis grape, cassis oolong, fuzzy group, candy gum, red eye, gin tonic, jin lime, gin beam
·whisky
· Jinbeam, horn, beam high ball, beam cider, beam cola, beam ginger, horn high ball, horn cider high ball, angular cork high ball, angular ginger high ball
·wine
· Red, White, Kitty, Cardini, Carimocho, Operator
· Makgeoli
· Seoul Makgeolli, Giant Peak Makgeolli, Lemon Makgeolli, Lime Makgeolli, Tomato Makgeolli
·sour
· Lemon, grapefruit, lime, peach, gigantic, green apple, calpis
·Plum wine
· Plum wine, wine wine, Miryuki acerola, Mizuki Yuzu, Miramori lychee
· Shochu
· Wheat · potato
·Sake
· Fascinating heat and cold sake
·Soft drink
· Oolong, green tea, cider, cola, ginger, calpisoda, orange, grapefruit, apple, tomato juice, calpis
Coupons that can be used with this course
2018/12/31 update